Polish to perfection, then switch to a finer grit…
That life is not fair is one of its most important lessons. Some are born with what others work for; some are born to be who others work for; and some are born without any real concept of what work even is, but they get elected to public office just the same.
If you're the sort who's upset by such karmic imbalances, Audi's mid-sizers might bother you, as these cars have been given more than their fair share of gifts. They certainly bother BMW and Mercedes-Benz. There's nothing the Audis don't do well. When you've got 1000 freeway miles separating the morning's first cup of coffee and the comfort of your own bed, the A6, S6, and A7 are as serene as a suite at the Four Seasons. But when your fortunes take a turn toward blind crests and sphincter-cinching kinks, the Audi's prove their adaptability with exemplary steering and body control. No matter the task, an overwhelming sense of solidity and unflappability pervades every move these Audi's make.
They are as crisply designed as they are engineered, with deceptively simple exterior styling. And their interiors are not just well ordered, but meticulously and artfully so. Woods that look as though they might once have been the end tables in Neuschwanstein Castle segue into spears of satin chrome and rich stitched leathers, lending the impression that Audi is somehow budgeting three to five times more on materials than its competitors. Regardless of whether they control the HVAC, audio system, or the side mirrors, knurled knobs provide a rare consistency of feel thanks to a faction of the interior-design team that focuses solely on haptics, the science of touch. And the MMI infotainment system [
see below
] sets the standard for the rest of the industry.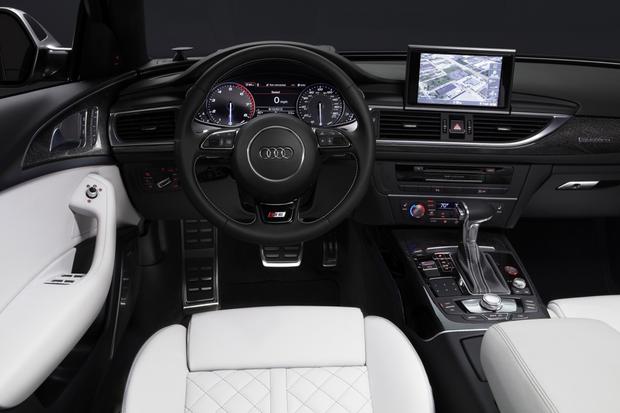 Between the A6 and A7, Audi offers a choice of maximum passenger volume or a seductive roofline atop the same faultless mechanical base. Powertrain choices range from hyper-efficient—38 mpg highway with the 3.0-liter turbo-diesel V-6—to simply hyper—420 horsepower from the S6's twin-turbo V-8. Audi offers a 2.0-liter engine in the A6, but, as good as that engine is, Audi has never provided that model for evaluation. Audi's wing in the 10-Best clubhouse is reserved for six- and eight-cylinder engines. With all of these various powertrain and body-style combinations, there's no way to go wrong, just a handful of different ways to go right.
Places on this list are awarded based on more than just numbers, but the S6's deserve special mention. Turn off stability control and flat-foot the throttle with the brake applied, and the launch control revs the engine to 5000 rpm before dumping the clutch. Not a single power stroke goes unused as all four fat tires hurl the car to 60 mph in just 3.7 seconds and through the quarter-mile in 12.1 at 115 mph. That makes this sedate-looking sedan quicker even than the new Corvette.
The Audi mid-sizers' only downside is cost. With a V-6, the A6 starts at $55,995; the A7 at $65,395. The S6's base price is $74,295, and a $1400 price bump from 2013 to '14 put the S7 over our $80,000 base-price cap, which was the only thing preventing its inclusion on this year's list.
Even at these prices, though, the cars are worth it. There are no-compromise sports cars and no-compromise luxury cars, but those sports cars typically compromise on comfort, and those luxury cars frequently compromise on performance. The Audi's are genuine no-compromise cars: They don't just offer something for everyone, they offer everything for anyone who can afford it.
As people who care more about computers than cars demand more integration of the former into the latter, infotainment systems are becoming a huge deal. So huge, in fact, that "infotainment" is generally accepted as a real word. Just this past year, NHTSA side-stepped into the fray, publishing suggestions regarding control operation, screen location, and smartphone integration. Audi, on the other hand, has been refining infotainment's exemplar for years. Its flagship technology, "MMI touch," blends a central control knob with an array of hard buttons, soft buttons, disappearing buttons, and even a fingertip sketch pad, making it the least frustrating infotainment system we've ever used.
1. ON SPEED DIAL
These hard buttons immediately call up the major submenus—navigation, phone, car setup, radio, and connected media.
2. WRITE NOW
Normally, six virtual buttons here call up the six radio presets. When you want to enter a destination, though, or use the onboard internet connection to look one up on Google, this touchpad turns into a fingertip-writing surface. That might sound distracting, but MMI is so good at discerning even the most illegible, absent-minded chicken scratch that it isn't.
3. HOT AND COLD
Capacitive touch systems may look sleek, but how far do you need to swipe your finger to increase temperature by five degrees? Here, you always know: five degrees, five clicks—tactile, audible, Audi-spec clicks.
4. LARGE, IN CHARGE
More proof that touch screens are not the answer. Poking at a field in the middle of the dash requires far more focus than does twirling a knob.
5. INNER CIRCLE
In each submenu, these buttons take on different functions as indicated by labels in the corners of the MMI screen.
 6. EXTREMELY LOUD? INCREDIBLY CLOSE
Ever notice how some radio stations are louder than others? Or that your iPod is quieter than the radio? Many infotainment systems leave all the major functions down on the centre console but strand the volume knob up on the centre stack. But here, just a small wrist flick separates the major system controller from the volume knob. Immediately below the volume knob are the seek/skip buttons.
The S6 is nearly perfect as is. All it needs is the $2000 Comfort Seating package for a total MSRP of $76,295. For the A6 and A7, once you commit to a V-6, your trim-level choices narrow to two: Premium Plus and Prestige. We like the Prestige trim's sportier S-line fascias and rocker panels. For $2800 ($2900 in the A7), it also includes a laundry list of features, including blind-spot monitoring, ambient lighting, and ventilated front seats. Avoid the Driver Assistance package at all costs. Incorporating adaptive cruise with automatic panic braking, lane-keeping assist, and other equipment, this $2800 bundle is cheaper than running the car into a wall but has the same effect: utter ruination.
We would also add the following equipment, bringing the total MSRP to $62,695 for the A6 and $71,895 for the A7:
 Full-LED headlights ($1400)
 Sport package for a firmer suspension and split-spoke wheels in the standard 19-inch size ($1000 on the A7, $1500 on the A6)
 Layered Oak Trim ($500 on the A6, $700 on the A7)
 Cold Weather package for the heated steering wheel and rear seats ($500)
Car and Driver Authors: