Torque, torque, and more torque.
The Audi Q7 TDI is one of those SUVs that don't make a whole lot of sense on paper, but after getting behind the wheel all of those reservations go out the window. This SUV has torque, and lots of it. The car wrapping specialists at Fostla were able to get their hands on one of these behemoths and didn't just transform the exterior appearance, but tuned the engine for even more power.
The first aspect of the Audi Q7 V12 TDI that Fostla focused on was the exterior. The SUV originally wore green paint from the factory, but the German company wanted to give the torque-filled SUV a more sinister and powerful appearance. Fostla installed a PWF diamond black matte foil that contrasts the standard chrome window surrounds and brushed aluminum side mirrors. The front and rear lights were each given a 5 percent tint while the windows were tinted with 55- and 85 percent.
The finishing touches on the exterior were the replacement of the stock wheels and new track plates. Here, Fostla opted to install new Mansory C5 wheels with a matte black powder coated finish. The wheels measure 11 x 23 at the front and rear axles and wear 315/25 R23 tires. The track plates were then extended by 15 mm at the front and 30 mm at the rear to accommodate the upgraded wheels.
The 6.0-liter V-12 turbodiesel engine was not left untouched. Fostla upgraded the engine with a new ECU tune, pushing the total output to 600 horsepower and 848 lb-ft. of earth-moving torque.
Fostla is currently offering all aspects of the Audi Q7 V12 TDI upgrades. The car wrap can be purchased for 3,500 Euros (+/- 4,500 USD) while the engine tune is priced at 6,000 Euros (+/- 7,700 USD).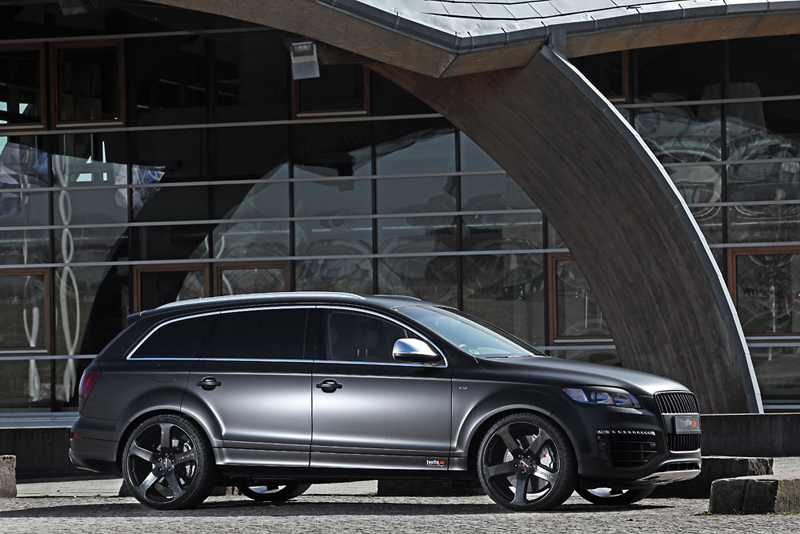 Fostla Audi Q7 V12 TDI Specifications
Engine:
Displacement: 6.0-liters
Number of Cylinders: V-12
Aspiration: Turbodiesel
Maximum Horsepower: 600
Maximum Torque: 848 lb-ft./1,150 Nm
-ECU Tune
Wheels and Tires:
Wheels: Mansory C5 with matte black powder coat finish
Wheel Size: 11 x 23
Tires: 315/25 R23
Exterior:
-Diamond Black Matte PWF Foil Wrap
-Tinted front and rear lights 5 percent
-Windows tinted 55- and 85 percent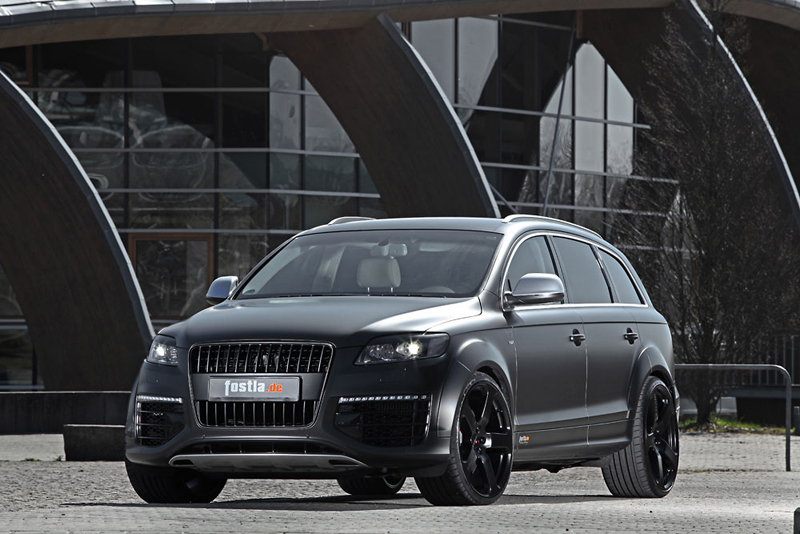 For the full article, please visit: http://www.motoringexposure.com/13875/fostla-wraps-the-audi-q7-v12-…