Date/Time :
Aug072021
8:00 am - 5:00 pm
Types :

NAAC invites you to enjoy our sixth annual Covered Bridge Tour on Saturday August 7, this year traversing roads and covered bridges in New Hampshire and Vermont.
The tour will start at the Walmart Parking Lot, 350 Winchester St., Keene, NH in front of the Harbor Freight Tool Store and will be approximately 110 miles in length, with a mid-day stop in Brattleboro VT. Lunch will be on your own, but we have designed the day so that you can bring a picnic lunch, or stop at Dunkins, Wendy's or McDonalds or at the event master's own favorite, Famous Fast Eddies Restaurant and Ice Cream, and still be Covid-19 responsible. The morning portion of the tour is all paved roads and includes eight covered bridges; you can expect some well-maintained dirt roads in the afternoon.
The finish will be in Bernardston, MA, at the Hitchcock Brewing Company, with food trucks, a band and outdoor seating where we can socialize for those who want to stick around. Current state and Audi Club of North America coronavirus rules will apply.
MSR is now open, and closes Wednesday August 4 at 6:00AM EDT. The entry fee is $40 per vehicle, but please consider an additional donation to Best Buddies when you register. You can also sign up for a free souvenir T-shirt!
Check-in at the event will begin at 8:30AM and first car off is at 9:00AM, with the tour ending at approximately 4:00PM. Your registration fee will be refunded if the event must be canceled.
Proceeds from this year's Covered Bridge Tour will again benefit NH Best Buddies. Best Buddies is a nonprofit 501 (c)(3) organization dedicated to establishing a global volunteer movement that creates opportunities for one-to-one friendships, integrated employment, leadership development, and inclusive living for individuals with intellectual and developmental disabilities. Last year's Covered Bridge Tour resulted in a contribution of over $1000 to Best Buddies.
Please come enjoy the day.
---
And a little about covered bridges…
A covered bridge is a timber-truss bridge with a roof, decking and siding, which means most covered bridges create an almost complete enclosure. The purpose of the covering is to protect the wooden structural members from the weather. Uncovered wooden bridges typically have a lifespan of only 20 years because of the effects of rain and sun, but a covered bridge could last over 100 years.
Covered bridges represent a link with our past. They stand as monuments to builders who had the vision and the ability to design and construct engineering masterpieces of wood. Men such as Ithiel Town, Stephen Long, James Tasker, and more recently, Milton Graton have left a lasting impression on the landscape.
There are about 14,000 covered bridges that have been built in the United States, most in the years 1825 to 1875. Today surviving bridges are numbered at fewer that 1000 by the United States Department of Transportation, and 814 by the National Society for the Preservation of Covered Bridges as of 2009.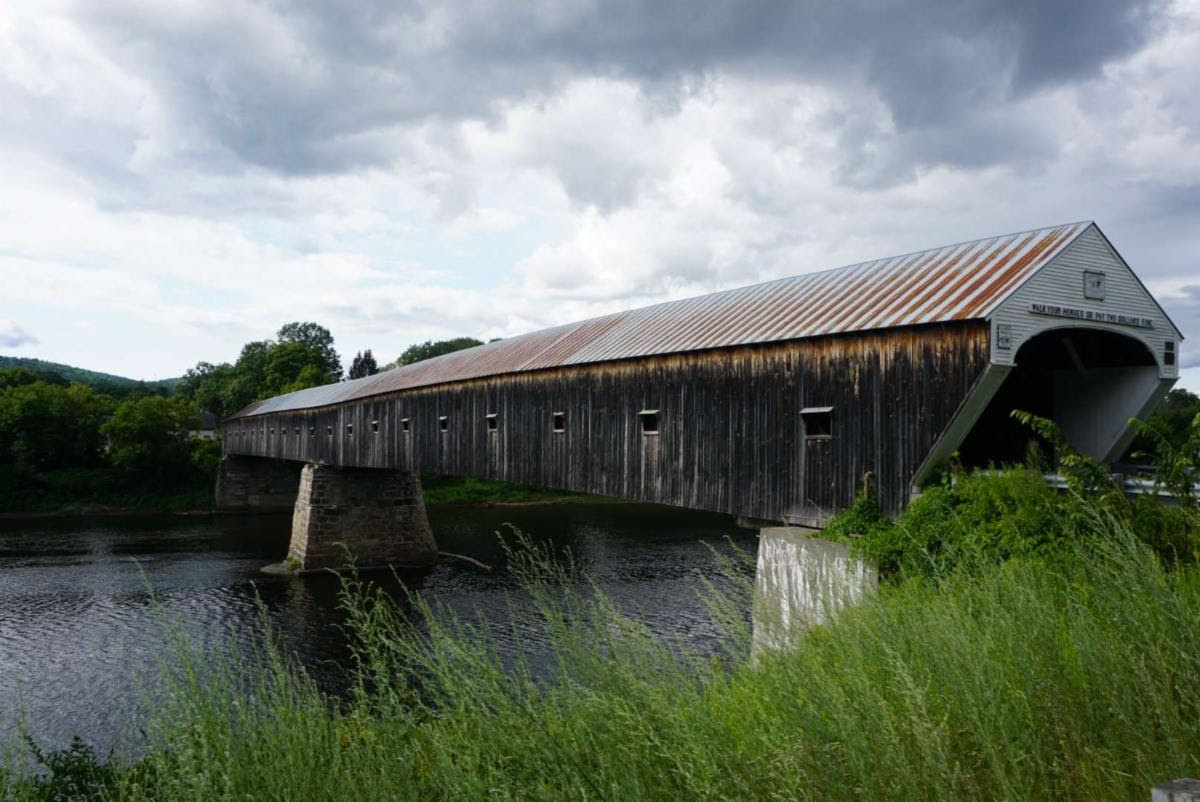 Remember too, each covered bridge is captured at a moment in time. These structures will change. Some will disappear, succumbing to the ravages of time and the carelessness of man. The outward appearance of some bridges will change in the future as they are rebuilt. Many bridges will appear to grow stronger as everything around them ages while others will appear ancient in their modern surroundings. Each bridge however, contains a character and an individuality all its own.
-Mike Collier
Map Unavailable